A New Kobo Ereader For 2020?
The Kobo company could launch a new ereader in 2020 to better compete with Kindle machines, which remain the market leader in ebook reading devices.
Kobo Libra H2O: a reader that boosted sales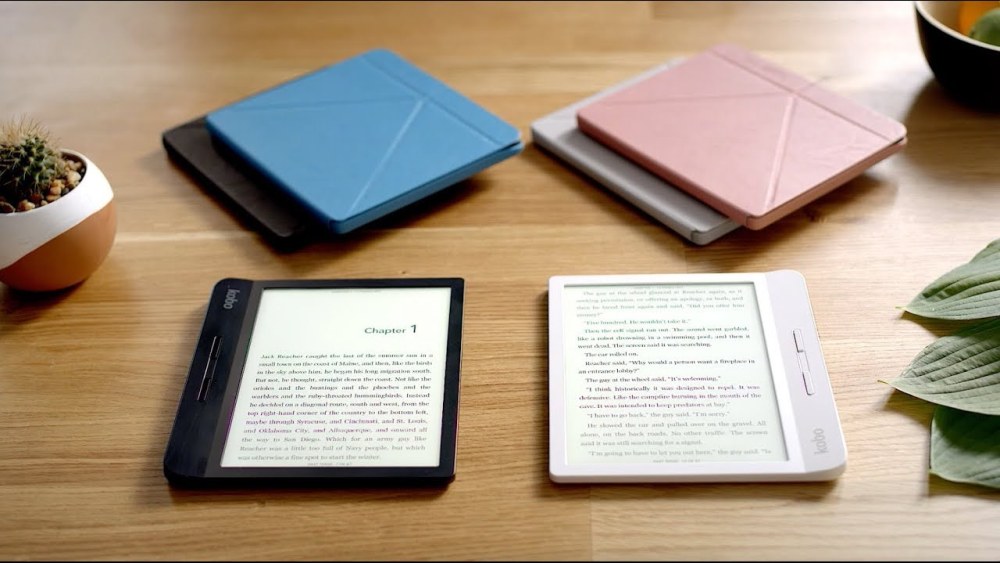 The previous year was good enough for Kobo, which successfully launched the Kobo Libra H2O reader, which offers excellent value for quality/price ratio on Amazon.com reviews On Consumer Electronics
Moreover, this reader is in the recommendations of the guide of the best readers since its release.
However, Amazon, Bookeen, and Vivlio have also released new models with new software (the Vivlio e-readers are identical to the old Tea e-readers in terms of hardware).
The competition does not rest and it is difficult to imagine that the engineers at Kobo sit idly by …
So, it seems very likely to me that a new reader will be marketed soon at Kobo. So let's try to see which model could come out…
Towards a new Kobo Clara HD?
My first hypothesis revolves around the Kobo Clara HD. This is, in my opinion, the best seller from Kobo since it offers very good value for money.
It also has an advantage over the Kindle Paperwhite, as it offers a lighting system that can be tinted yellow-orange to limit eye strain and the effects of blue light.
But, Bookeen also released its Bookeen Diva HD which offers the same thing … And, in the meantime, the Kindle Paperwhite is completely waterproof.
Now is the time for Kobo to relaunch this great model by making a few simple changes: adding a little more storage memory and a waterproof case.
A new Kobo Clara HD H2O (I just invented this beautiful name) would bring a breath of fresh air to the brand's affordable model and make the entire current range waterproof. So it would be a great move for Kobo.
And why not a new Kobo Forma?
Another hypothesis and it is perhaps the most likely one: to give a facelift to the Kobo Forma.
This ereader is the high-end reading machine from Kobo which has only one competitor the Kindle Oasis (in this price range – there is also the Vivlio InkPad 3 which is very interesting of course).
The Kindle Oasis is now more interesting because it is faster than the Kobo Forma – which was released in 2018. Especially since the Kindle Oasis also accumulates rather glowing reviews on Amazon…
Kobo could, therefore, update its technical characteristics to make it faster and more competitive.
But, this reader could just as easily disappear, because it seems obvious that it now does a little bit of duplication with the Kobo Libra H2O which has a 7-inch screen …
Conclusion: should we wait?
For the moment, there is nothing official and these elements are only the fruit of my reflection on the state of the Kobo range.
If you are looking for the Kobo Libra H2O, you can embark on a purchase without hesitation. It's a great ereader.
For the other ereaders in the Kobo range, I am less definitive, because the models of other brands are just as interesting (with the Kindle Oasis, which remains the most efficient high-end ereader currently).