Kindle 2019 Review: a Good Budget Ereader
Three years after the release of the previous model, Amazon is marketing a new Kindle e-reader in 2019 with a major advantage: a touchscreen with lighting for less than $ 90.
So we will see in this full test what the new Kindle e-reader is worth.
Packaging and presentation of the Ereader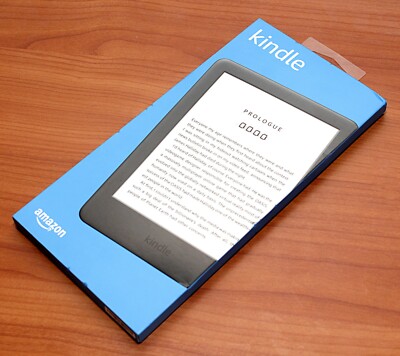 The packaging of the ereader kindle is quite bare. We only have the ereader packed in a plastic bag, all inserted in a light cardboard sheath for all protection.
The box looks more like a slightly thicker and improved envelope than a real cardboard box.
This is not a surprise since Amazon has accustomed us for some time to very basic packaging. The objective is undoubtedly to dispatch the reading lights more quickly, in less bulky packages, less heavy, and which creates less waste. But, also, it costs Amazon less for transportation.
Fortunately, the reader arrived safely. Anyway, in case of a problem during transport, Amazon will change the reader without making a fuss …
In addition to the reader, there is a very standard USB cable and a small user manual.
The cable is quite short and the user manual simply asks us to connect the reader to a power source to recharge it.
We will be able to access a more complete manual located in the digital library of the reader.
The first grip immediately gives you confidence. With 12 years of reading experience, you can feel that Amazon has refined its product down to the last detail.
The plastic used is quite soft and the whole is solid. We also have a fairly compact reader which will delight nomads readers.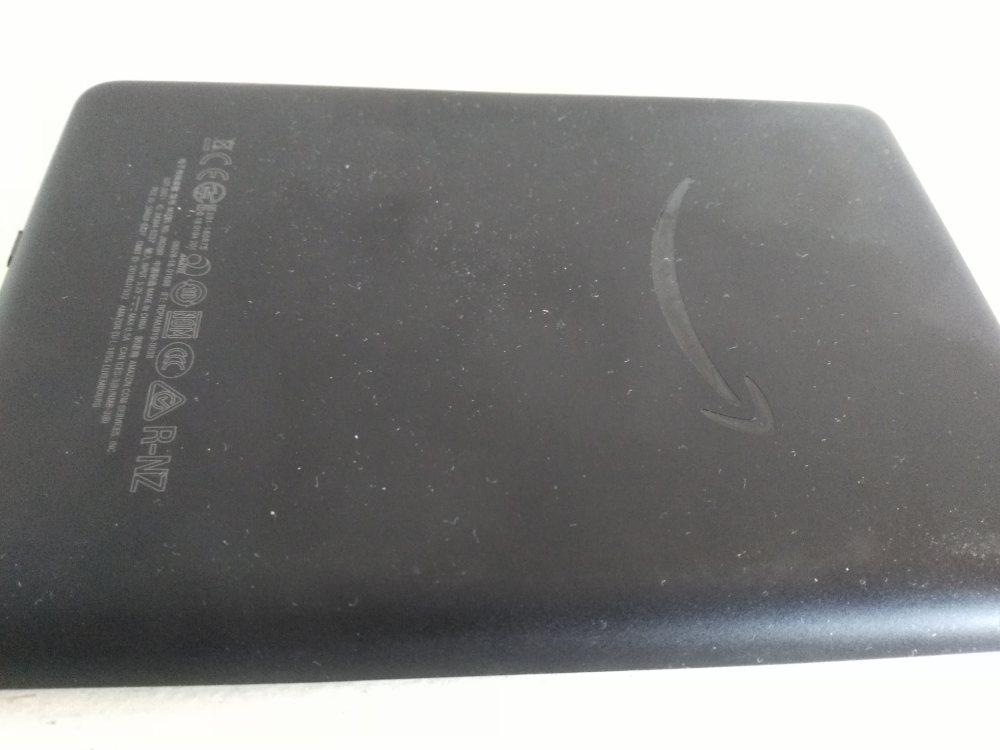 The ereader only offers a single button to switch the device on or off.
We also have the inevitable micro-SD port that allows you to charge the ereader or connect it to your computer.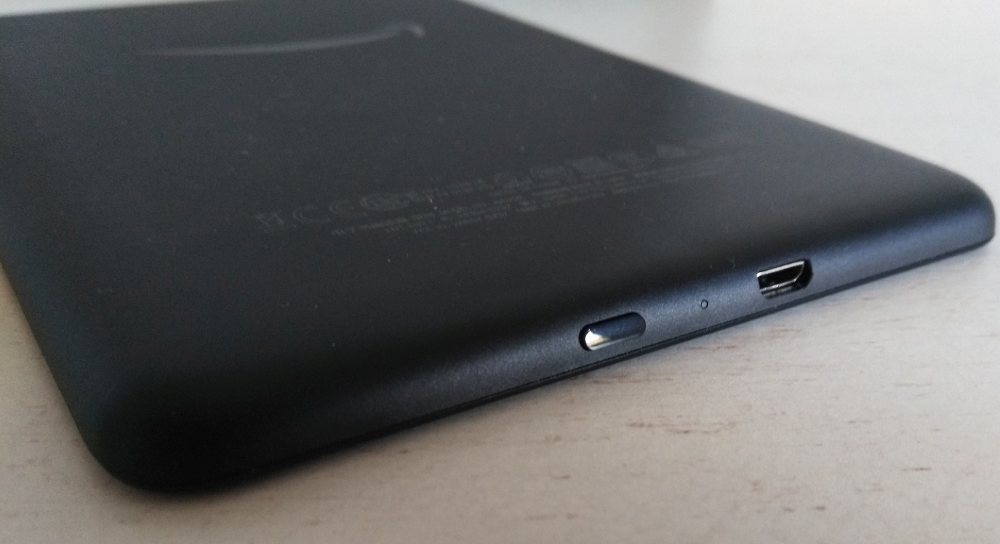 So we find the fairly small format of the Kindle with its 6-inch screen, which is tactile, and its 4 GB of storage for your ebooks (on the ignition, you will have a little less than 3 GB available – the rest being occupied by Kindle software running the eReader).
The first impression is surprisingly good for a reader sold at a very low price!
So we will immediately tackle the novelty of this ereader: its screen with lighting.
Is the Kindle e-reader screen good?
The screen is in a 6-inch format with 600 x 800 pixels (800 in height and 600 in width).
Given its characteristics, one cannot expect wonders from it.
However, I am pleasantly surprised. First of all, the accuracy of the text is not excellent, but we can read everything on the screen without any problem.
Only when you get very close to the screen can you spot the small dots on the characters.
But, the good news is that the lighting works very well and provides the screen with a contrast never seen on a reader in this price range.
So it's a very good surprise for a reader at 89 $!
As with the higher-end and more expensive models, we can adjust the light output according to our preferences.
Generally, and unless we travel a lot, we settle this once and for all, and then we don't change it anymore, because our reading habits are fairly constant (places, time, type of ebook, etc.).
The other good news is that the touchscreen is as responsive as the more upscale Paperwhite.
There is therefore no difficulty in navigating the menus, selecting books, underlining text, etc.
The only small defect comes from the type of screen used which is embedded in the plastic casing of the ereader.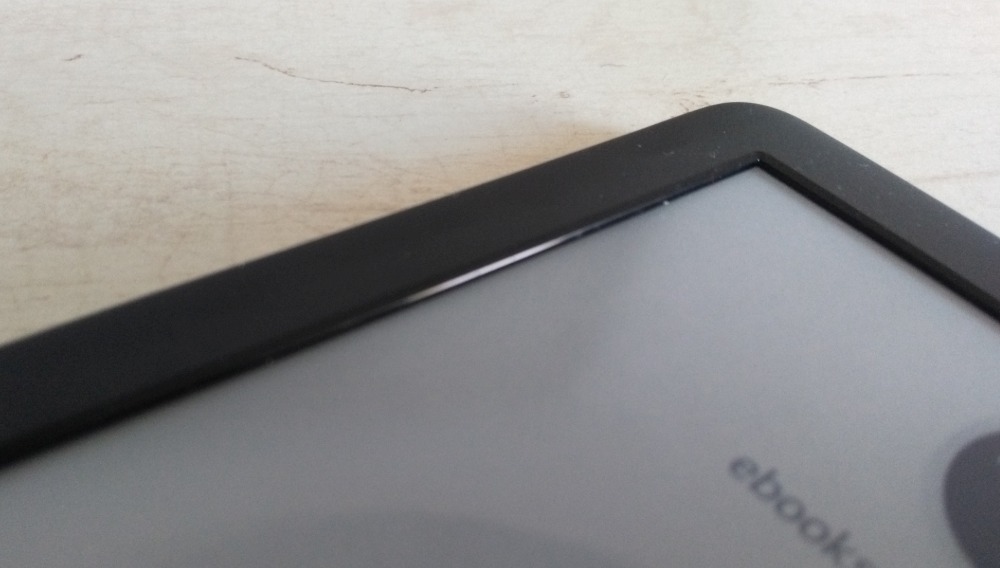 Indeed, when you are used to edge-to-edge screens, it takes time to adapt when you want to press at the very top of the screen (to access the menu) or at the bottom (to display the statistics of reading).
We are then a little embarrassed by the small "sidewalk" on the edges of the screen. A case that is not found on the Kindle Paperwhite for example.
Apart from this little inconvenience, I don't have much to reproach this Kindle reader for.
We can even say that the contract is perfectly fulfilled given the price offered for the machine.
Wifi, USB, library
The ereader has a Wi-Fi connection and its setting with my internet box (a Freebox) was not a problem for me.
Wifi registration is done at startup and then we no longer have to touch it.
Curiously, and unlike other Kindle e-readers, my Amazon account was not set up on the machine. I had to log into my Amazon account by entering an email and password to retrieve my ebooks.
I noticed that the synchronization was fast and in less than three minutes I was able to resume reading a Kindle ebook from my library.
A fairly short USB cable is supplied with the reader. You can use it to connect your reader to an AC adapter to charge your Kindle or to connect the reader to a computer.
Obviously, I tested the functioning of this Kindle with Caliber.
So Caliber works very well with this new Kindle. For information, my version of Caliber used is 3.46.0 if you have an older version, it may be necessary to update the software so that it works correctly with the reader.
Note that the reader does not directly support the EPUB ebook format. This is why I use Caliber software which allows a simple transfer of ebooks to the Kindle by converting it into the right format automatically (it works well in 99% of cases).
Just know that this is one of the most complete (or the most complete if we add the many self-published ebooks) and that you can consult it on Amazon to see the catalog.
Note that there is direct access to the Prime Reading and Kindle Subscription catalogs which allow you to borrow books.
As with other e-readers of the brand, this Kindle makes perfect sense if you are already an Amazon customer, especially with the Prime service (which allows free borrowing of books).
On the other hand, if you buy an e-book from Amazon, you can only read it on an Amazon e-reader or with special software provided free of charge by Amazon (compatible with Android, iOS, Windows, and Mac OS).
Kindle Ereader interface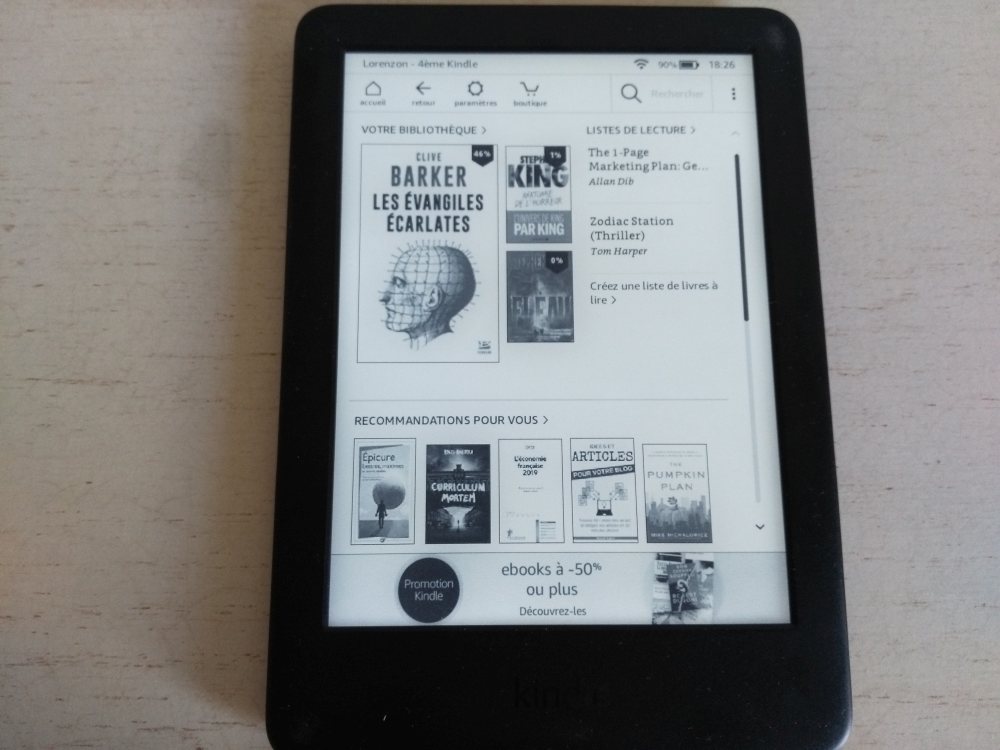 The home screen is identical to that of the Paperwhite and there is a list of books being read, recommendations for reading from the store, or from our previous purchases and settings.
We are on familiar ground and everything turns out to be simple enough for us to get our bearings very easily without the need for a manual.
The options are many but, as always, sometimes a little confusing.
Here are the settings of the Kindle (regarding the text of the ebooks will be detailed later):
device-related options: reset, Amazon account, time, reboot, etc.

you can protect your reader with a secret code

you can deactivate reading recommendations from the home screen

we can activate a screen refresh on each page

we can display an option that allows displaying the next volume of a book

indications for foreign language books on complicated words can be displayed (this option is called "Wordwise" and can be used for many languages)

options on preferences when highlighting text in ebooks

language setting

keyboard choice

default dictionary for each language

Chinese content sort order

there are options to activate audio comments when you touch the elements on the screen (only works if you switch the reader to English)

we have an experimental web browser

we can limit access to the reader for children ("parental control")

we can create collections of books
Level options, so we have what it takes for an e-reader of this type.
Reading eBooks on the Kindle Reader
As always with Kindle, reading is very pleasant.
We find all the usual reading options that allow you to change the appearance of the displayed text:
text size

character font

bold

line spacing

orientation (it is possible to read in landscape and portrait)

alignment: text justified or not
We also have the statistics that I particularly like on e-readers:
location in the book

time remaining in the book

remaining time in the chapter
In addition, a percentage of progress appears at the bottom right of the screen which is also, in my opinion, quite practical to see where we are in the book.
Finally, you can display the time at the top of the screen.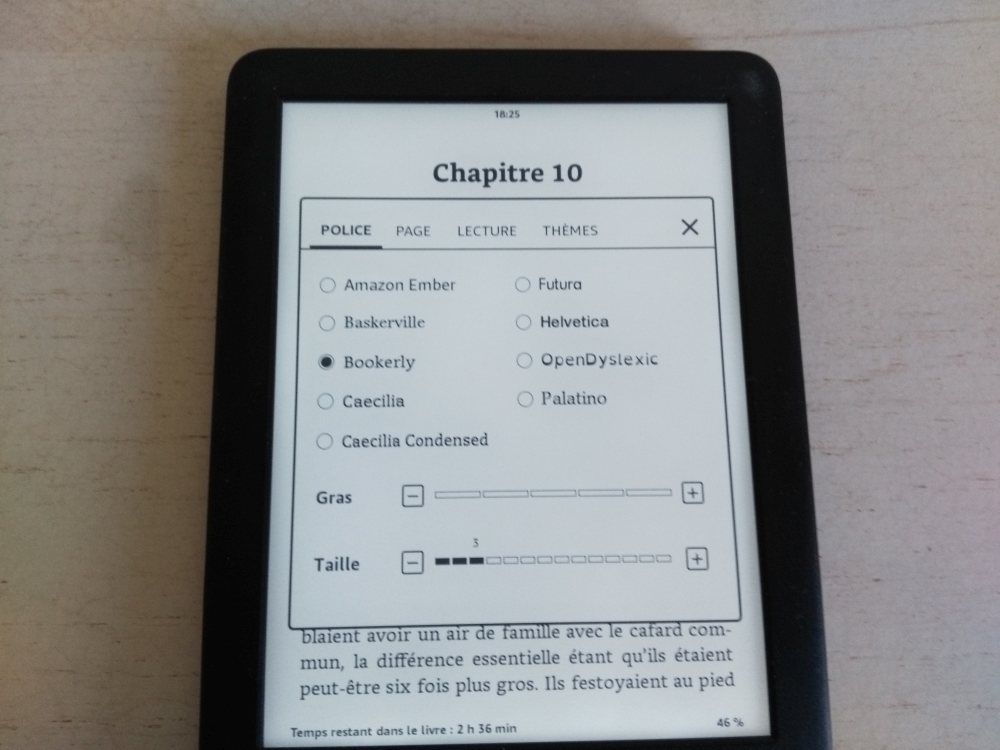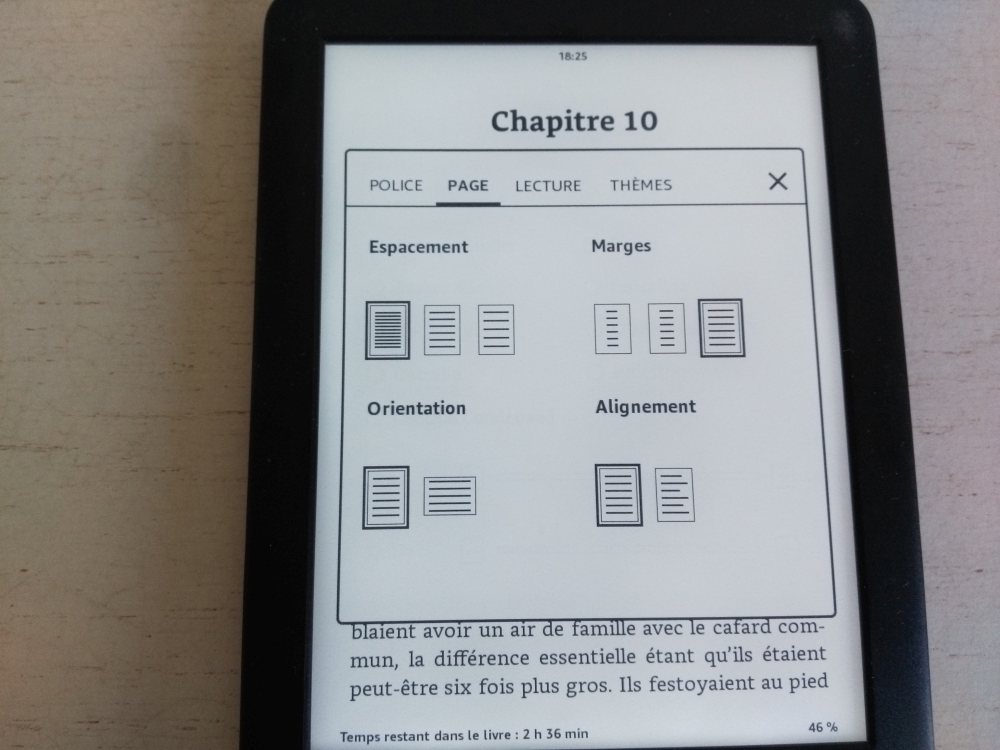 Level of the reading experience, so it's very good: the text is displayed well, there is lighting to have a better contrast which makes it possible to read more comfortably and the machine is light while remaining easy to handle.
So I don't have much more to add and I'll leave you with a few photos.
BD and PDF reading
I'm not going to take it four ways: the screen of this reader is sorely lacking in pixels to allow the correct display of comics and PDF files.
Of course, you can always try the experiment with manga, and, in some cases, the result will be satisfactory.
But, in the vast majority of situations, reading comics will be poor and you will have to spend your time zooming in to be able to appreciate the drawings and sometimes even read the text.
Technical specifications of the Kindle reader (version released in 2019)
This Kindle e-book reader released in April 2019 has these technical specifications:
6-inch touch screen with 600 x 800 pixels (167 PPI)

front light lighting

4GB of storage memory

Wireless

Compatible ebook files: Kindle Format 8 (AZW3), Kindle (AZW), TXT, PDF, unprotected MOBI, native PRC; HTML, DOC, DOCX, JPEG, GIF, PNG, BMP converted.

Dimensions: 160 x 113 x 8.7 mm.

Weight: 174g
Conclusion and final word of the Kindle ereader
This reader is simply excellent.
For its price ($ 89.99), you will not find it better for the moment. This is especially true if you already have an Amazon Prime subscription that will give you access to thousands of ebooks to read without paying more …
With a small footprint, 4GB of storage, and a screen with good contrast, and lighting, we can now have a quality reader that costs almost double 3 years ago.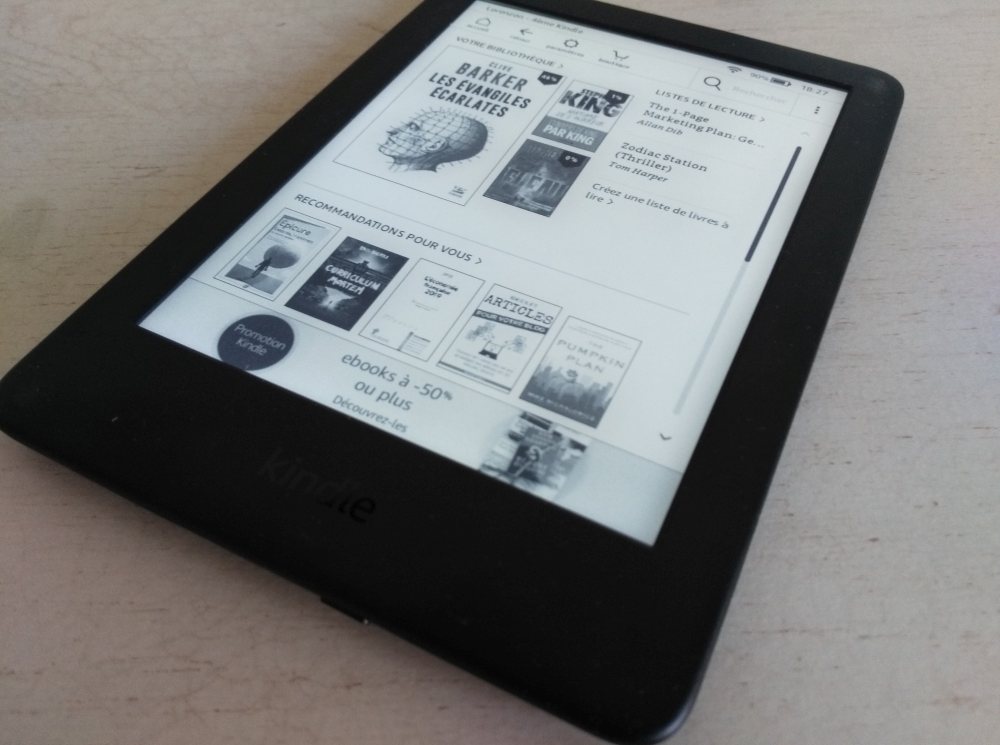 I even think that this very good Kindle reader should allow a lot more people to read more and for less.
If you're not allergic to Amazon, this is clearly the right reader to buy right now.
See the Kindle e-reader on Amazon.
Most :
✔️the very attractive price
✔️ convincing lighting
✔️integration with Amazon services
The lessers :
Ep no Epub compatibility
A final note for the test of this Kindle e-reader: ⭐⭐⭐⭐⭐
If you want to know more about e-readers, you can consult the e-reader tests on the site or consult the Amazon reviews on this Kindle e-reader.