InkBOOK Prime eReader Review
The InkBOOK Prime e-reader has been marketed for a few weeks in France by the company Youboox, which also offers an unlimited reading service by subscription.
This e-reader, as well as its little sister, the InkBOOK Classic 2, is based on an original concept: an Android system that allows you to install various reading applications and benefit from an electronic ink screen.
Suddenly, the test was quite complicated, because the possibilities offered by this e-reader are quite enormous.
I would also like to thank the Youboox company which allowed me to test this e-reader so that I could report on it.
Introducing the InkBOOK Prime e-reader
The InkBOOK Prime e-reader arrived in a beautiful cardboard box that features a logo indicating that the e-reader has won a design award.
The box is very nice and we can find the e-reader inside as well as a charging cable and two manuals that have start-up instructions in different languages.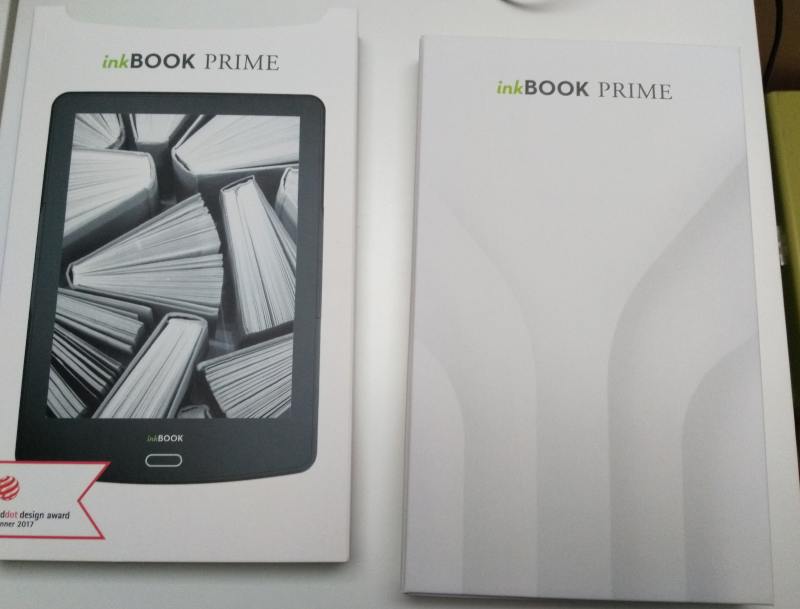 The e-reader appears to be identical in design to those competing in the same categories.
The InkBOOK Prime is therefore an e-reader with a 6-inch screen that is also tactile and illuminated.
The e-reader is made of plastic that is quite rigid and yet pleasant to the touch. We immediately notice the presence of no less than 6 buttons on the machine.
First, the on/off button is placed on the back of the e-reader. If at first, we find it a little funny, it is actually a very practical place since the button is very easy to access.
Then there are two buttons on each side of the screen that will be used to turn the pages of digital books in reading applications.
Finally, we have a button located under the InkBook logo which is a kind of touch button that allows you to return to the previous screen or to the home page in the various Android applications that are on the e-reader.
Finally, there is obviously a socket for a mini-USB cable, but also a port for a micro-SD card.
The 6-inch screen is fully integrated into the e-reader without any unsightly detachment from the plastic areas. The front face of the e-reader is therefore perfectly smooth, like a tablet, and gives the e-reader a nice "premium" appearance.
Overall everything looks good and the eReader is quite stiff, so that's a good first impression for this InkBOOK Prime eReader.
InkBOOK Prime e-reader screen
The screen is an important part and we are lucky to have a real E Ink Carta display with a resolution of 1024 x 758 pixels.
While this is not the best resolution possible today, it is quite sufficient for reading novels and text documents.
The screen is therefore precise and offers a nice contrast since it is from the "Carta" generation. The touch layer is responsive and allows easy navigation in the menus.
The e-reader also offers a lighting system that works well and is even very powerful when set to maximum. As is often the case with an e-reader of this range, the lighting is not completely uniform and an informed user may find small gray areas at the bottom or on the sides.
But, having shown the eReader to other people, none have noticed this problem and the eReader really makes a good impression.
Wifi, USB, and Bluetooth
The e-reader offers a WiFi connection that can be set as soon as it is switched on. Moreover, I strongly advise you to do so because then, the first steps with the e-reader are all done with an Internet connection.
The e-reader can also be connected to a computer using a USB cable. This allows you to reload the e-reader, but also to manage the files on it.
As the e-reader is compatible with Caliber software, this is the way I chose to transfer Epub format ebooks to it.
Finally, there is a Bluetooth connection, but its usefulness escapes me a little. While searching the internet, I realized that a text-to-speech feature was lurking somewhere in the e-reader, but I couldn't get my hands on it (maybe with the Kindle app?). Likewise, it should be possible to play audiobooks in MP3 format.
So, maybe that's why you can connect a Bluetooth speaker or headset to the InkBOOK Prime e-reader.
InkBOOK Prime e-reader interface
The interface of the e-reader seems very clean and simple at first glance. But, we are a little catapulted into this interface without realizing that we have more of a device that works like an Android smartphone in your hands than a "turnkey" e-reader.
First of all, the Home screen is actually a basic reading application that presents currently reading ebooks, the library, and links to other options.
This reading app is totally stripped down and does the minimum: you can read books, adjust a few font or font size settings and that's about it.
The library is also virtually devoid of any options. We have the list of ebooks and that's about it!
But, of course, all the richness of this e-reader can be found behind the applications button (the little squares) on the home page.
Once in the application section of the interface, you can consult the apps already installed and run them.
But, you can also access recommended applications as well as those available for download. Well, it's ecstasy since we have the Youboox application but also Kindle and Kobo!
To install an application, Wifi must be activated, and we just have to press the "install" button and wait.
Reading software on InkBOOK Prime
There are several software and reader applications on the InkBOOK Prime eReader, which is why this part of this test will be more developed than usual.
Default software
As I have already explained to you the default software does the bare minimum. It's quite disappointing when you know the reading software of today's e-readers which can really do a lot better.
But, in practice, one can read his ebooks. So at this level, and with the nice screen, it's workable.
However, you will find that the InkBook eReader is not lost because there are many other ways to read books.
Youboox software
Youboox reading software gives you access to all the books in the unlimited reading service.
The operation is simple and resembles that which can be found on the smartphone and tablet application.  So we start by not loading the book on the e-reader and, once that is finished, we can turn off the wifi to save battery.
Then, the book opens in the reading application and you can access the various reading parameters: font size, fonts, etc.
In-app playback customization options aren't as extensive as the competition, but if you're already using Youboox, you won't be surprised. And, in use, that doesn't really pose a problem.
Where it's more complicated is with the comics.
But, you can imagine, reading comics on an e-reader with a 6-inch black and white screen is not recommended. So, no miracle, the result is not ideal as on the e-readers of the competition.
And, it will be the same for magazines and newspapers since they are the digital versions of the paper editions (with their batches of photographs, drawings, and advertisements).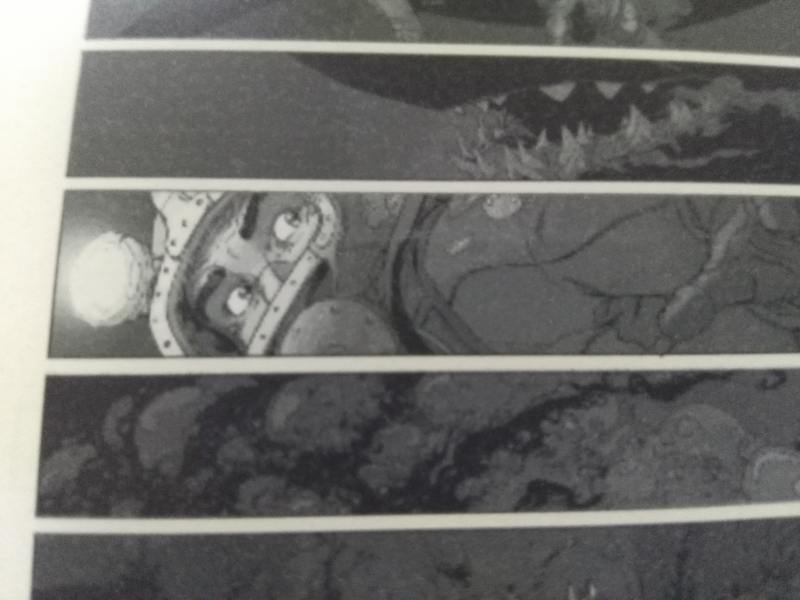 Kindle software
Good surprise, InkBOOK recommends the Kindle reading application which therefore allows for a simplified installation.
We activate the Wifi, we click on "install", we answer a few questions and we can open the application.
It is therefore an Android application and we are asked to enter our email and password to connect to our Kindle account.
Then the application takes a little time to synchronize the library and we can read our books.
No surprise in terms of use since it works well with the usual functions found on smartphones and tablets.  The interface is a bit slower (due to the electronic ink display) but it doesn't interfere with playback.
Only taking notes will be more difficult, if that is a particularly important function for you.
Others: Kobo, Aldiko, Tolino, etc.
Other applications can be installed on the eReader such as the one from Kobo but also the application from Tolino.
In addition, it is possible to download. APK files that allow you to install applications that are not on the list offered by InkBOOK.
I was able to easily install the Aldiko software to replace the eReader's default EPub reader with great ease. To do this, I had to use the internet browser in the e-reader to download an APK file from the web. Then, the installation was done very simply from the eReader's file manager.
So, you can always improve the operation of the e-reader by using other software.
This is a strength of the e-reader, but also a problem because you have to be a bit of a hacker for everything to work well. However, for someone familiar with tablets, smartphones, and e-readers, this shouldn't be a big deal.
Experience and feelings
If the first few hours were a bit difficult and disconcerting, I still really liked this e-reader.
The reason is simple: by having a lot of e-readers and reading services, I get a little confused. Sometimes I take my Kindle to read a book but forgot that I had already transferred it to a Bookeen in Epub format.
And, if we add to that the Youboox service and its many books available in the free catalog, it becomes complicated.
But, with this InkBOOK Prime, you can bring everything together in one place with the different applications. So I can read my Epub with Aldiko, my Kindle books, my Kobo books, and access Youboox content.
The autonomy is still problematic because, while the e-reader has a battery that lasts much longer than a tablet, the autonomy is much less than that of a conventional e-reader.
I imagine that this comes from the Wifi which is often used to download books on Youboox but also because of the technical architecture which is based on an operating system that is not designed for e-readers.
The results are therefore largely positive for this beautiful InkBOOK Prime reader.
Technical information on the InkBOOK Prime e-reader
Here is technical information on what is in this InkBOOK Prime eReader:
Screen: E Ink® Carta

6-inch glare-free (16 levels of gray) at 1024 x 758 pixels (212 dpi)

Size: 159 x 114 x 9 mm

Weight: 172g

Processor: Quad-Core Cortex A9, up to 1.6 GHz

Storage memory: 8 GB

Battery: 2000 mAh Li-ION Polymer

Battery life: Up to three weeks with optimal use of Wi-Fi and lighting

Charging time: 5-6 hours for a full charge

Operating system: Android 4.2.2. Jelly bean

Accepted formats: EPUB and PDF (reflow) with Adobe DRM (ADEPT), MOBI (without DRM), TXT, FB2, HTML, RTF, CHM
Note the presence of many utility software including an Internet browser which may be useful for downloading new Android applications in APK format.
I've noticed that the Wi-Fi automatically turns off quickly when you're not using the internet – probably to save battery power – which is quite annoying when surfing the web.
Conclusion
This InkBOOK e-reader is full of surprises and I really enjoyed reading it on this machine.
But, let's face it, this isn't a turnkey device like the Kindle or the Kobos.
So anyone who buys an InkBOOK eReader should expect to put their hands a little in the machine to get a beautifully usable eReader.
So, I recommend this e-reader for advanced e-reader users or fans of the Youboox service since it is the only machine capable of reading the books of this unlimited reading service.
Fat readers who have gone to Kindle and Kobo will also find their account there since this machine allows reading ebooks in Epub format but also Kobo and Kindle ebooks.
This InkBOOK Prime can therefore be a good way to satisfy your thirst for reading on the most popular platforms of the moment.