Tea / Pocketbook Inkpad 3 e-reader Review
The InkPad 3 is a new e-reader from Pocketbook / Tea which arrives just before summer to accompany our holidays. This is good because this 7.8-inch e-reader is very comfortable for a low price. The test is the following …
This e-reader is manufactured by Pocketbook but distributed in France by Tea (The Ebook Alternative).
Note: this e-reader is also available under the new Vivlio brand. The test here concerns the e-reader under the Tea brand. The Inkpad 3 e-reader doesn't have quite the same functionality.
Packaging and presentation of the InkPad 3 e-reader
Tea has accustomed us to beautiful and solid packaging and that of this new InkPad 3 e-reader is no exception to the rule.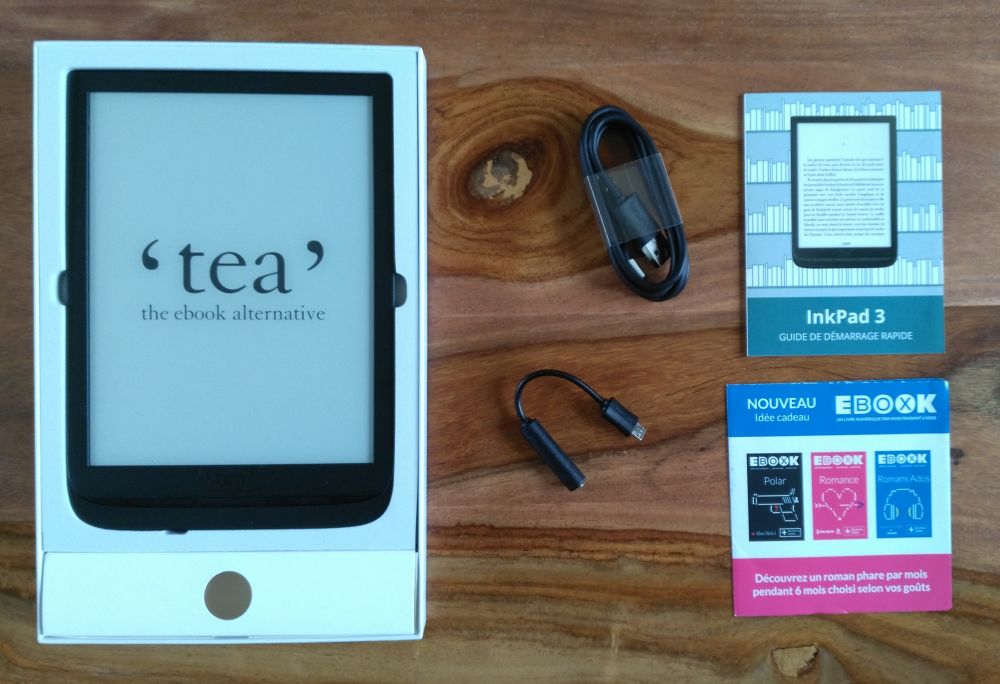 The e-reader is therefore delivered in a beautiful box that summarizes on the back the main technical characteristics of the machine.
We are also told that 33 books (or extracts) are offered (on this subject, there is a little SF and sentimental reading and even a little bit-lit). It all looks very nice.
When we open we have the e-reader well protected but also some booklets (quick start, presentation of Tea) as well as two cables:
a USB cable to connect the e-reader to a computer or to a charger (not supplied)

a cable that allows the e-reader to be fitted with a 3.5 mm jack port
The e-reader feels very sturdy and is made of beautiful plastic that is pleasant to the touch. We recognize the style and inspiration that comes from the latest Touch HD since it is the same design that is used for this InkPad 3.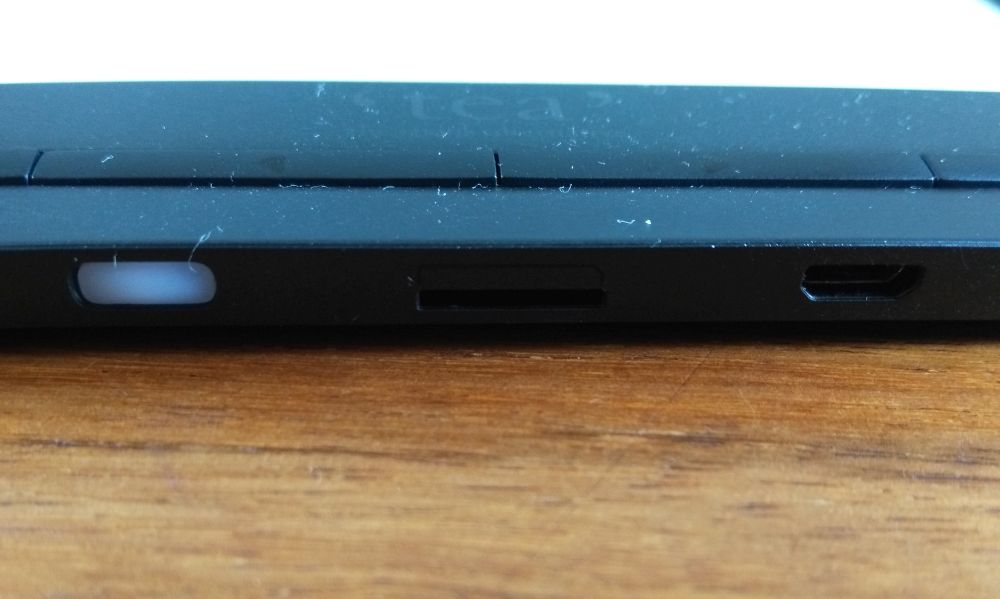 On the edge, at the bottom of the e-reader, there is an on/off button, a micro-SD card port (the e-reader already has 8 GB of storage memory), and a USB port.
We, therefore, notice the disappearance of the 3.5 mm jack port, but we have a cable that serves as an adapter.
And, as I'll explain to you when I talk about Text-to-Speech, that's a pretty good thing.
Finally, there are 4 buttons on the front, quite discreet but easily accessible even in the dark. By default, the functions are as follows:
Back to Home

previous

following

menu / option
I specify that this is the default configuration since it is possible to configure this in the options to change the behavior of these buttons.
The first impression is therefore very good and it is with impatience that we want to turn on the e-reader …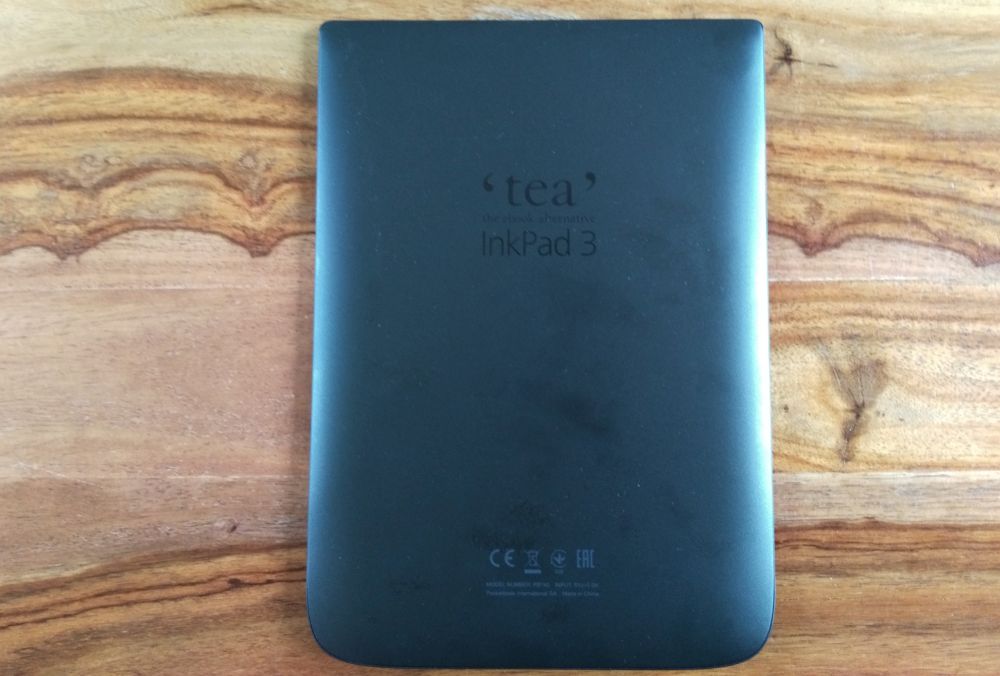 The InkPad 3 e-reader screen
This screen is magnificent.
Despite boasting an impressive 7.8-inch diagonal, the resolution is more than enough that you can't see any pixels. (1,404 x 1,872 pixels, or 300 dpi)
Either way, it's the latest electronic ink technology that's being used in this InkPad 3 and you just won't get better in 2018 on a machine with such a large screen.
So, the observation is simple: we know that we will be very comfortable reading.
The touch layer is very responsive, which allows you to scroll through the pages, select menu items, and navigate the library with great ease. I did not notice any problems with this aspect of the reader.
Finally, there is new lighting that filters out blue light. A system called SmartLight.
Overall, the lighting is quite spectacular since you can finely adjust the light output to find a light that is perfect for reading.
We can therefore activate the SmartLight function to give the screen a more or less orange tint.
You can also if you don't want to bother, let the e-reader automatically choose the brightness and orange tint settings that it deems most appropriate.
The only problem is that this lighting has a small flaw: in a certain configuration, it is not uniform.
So, if the brightness is low but the light filter is high enough, there is a slightly dark halo at the bottom of the screen. I'm quibbling, but it's always good to clarify. (I didn't manage to highlight this flaw in a photo, so it's not much)
Is it embarrassing? For me not at all, as I have rarely used the eReader in this configuration and it does not prevent reading. Because, anyway, if you activate the SmartLight filter, it is good when you put the lighting at a sufficient level for it to be useful.
So this lighting is largely satisfactory.
Here are some comparison photos of the screen.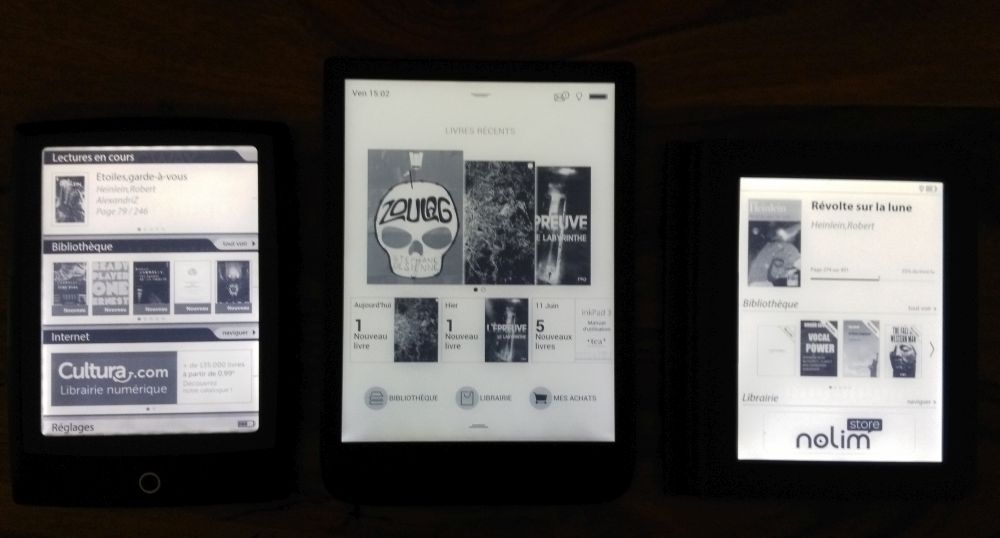 Wifi, USB, Integrated library
As for connectivity, we have no surprises: we have a Wifi connection which allows you to connect to your Internet box quickly.
Then you can access the online bookstore (provided by Tea) which has everything you can look for: free books, latest releases, etc.
No surprise then, since we have everything we need.
Finally, we have a USB cable that connects the e-reader to a computer. This allows you to recharge the e-reader but also to add ebooks to the library.
Note that the e-reader is well compatible with the Caliber software since I was able to successfully load EPUB ebooks on this InkPad 3 e-reader.
Inkpad 3 interface and software
The InkPad 3 e-reader home screen will come as no surprise to fans of the e-reader range who have already dabbled in a Pocketbook / Tea e-reader.
But that's good because this interface gets to the point by offering the classic options and the usual shortcuts by default.
Thus, we have easy access to the list of books being read, the library, the bookstore (download new books), and the settings.
In short, we find our way around quickly and that's good because we only have one desire: to start reading on this big screen.
But, if one looks at the options, they turn out to be as numerous as they are comprehensive.
First of all, you should know that there are two places where you will find options:
at the top of the screen by pressing the button with the two lines

at the bottom by pressing an almost identical button (mirror)
At the top, we have the options concerning the WiFi connection, synchronization, lighting, and other parameters.
At the bottom, you have access to all the functions and small applications of the eReader. And there are many:
Calculator

Dictionary

Dropbox

Image and photo gallery

Clock and calendar

Audio player (to play MP3 files)

Internet browser (for troubleshooting only)

PocketNews (an RSS feed reader in your eReader)

Scribble, a small tool for drawing and sketching

Solitaire (the card game)

Sudoku (the puzzle game)

Chess (the board game)
You will also find shortcuts to the library, the library, and the parameters of the reader.
If you take a look in the settings, you can first connect to Wifi, configure your customer account, your Dropbox account, and of course your Adobe DRM account.
You can also do very advanced things like adjusting the light intensity and SmartLight according to the reading time.
I'm not sure we should go that far, but it's interesting that this feature exists.
You can also set what the e-reader should do when starting up (open the book currently reading? Go back to home?).
But, my favorite option and one that I consider essential on an e-reader is the screen refresh setting. You can therefore choose to refresh the screen every 3 pages, 5 pages, 10 pages, all pages or never.
When refreshed, the screen can sort of "flash" by quickly displaying a blank page. This is not related to the e-reader but to the electronic ink technology used on all e-readers.
So it's nice to see that Pocketbook gives us the flexibility to make this adjustment.
After reviewing the main options, we can finally start reading a good ebook!
More about this source textSource text required for additional translation information.
Reading ebooks on Pocketbook InkPad 3 e-reader
No suspense for this InkPad 3 e-reader: the reading experience is excellent.
This is mainly due to two factors: a large 7.8-inch screen and an impressive resolution of 1,404 x 1,872 pixels, or 300 dpi.
We therefore clearly have very precise characters which can be very large, which allows great reading comfort even for people who have vision problems.
On this subject, I am often asked the question, so it is possible to use the e-reader in landscape mode (i.e. wider than high) which allows enlarging the characters even more for people who have them. need.
If I compare to other e-readers, I have the impression that the contrast (light off) may be less good. But it's hard to compare 6-inch e-readers to this 7.8-inch reader without being fooled by an optical illusion.
And then, anyway, as soon as you turn on the lights it's great.
The page is very white and everything is perfectly visible. You can also use the SmartLight function to make the screen look orange and not strain your eyes too much.
While showing this feature to friends I was told "cool, that sounds a bit old book!" ". But in fact, it's mostly to avoid straining your eyes too much – which can happen if you sometimes read for more than 3 hours in a row as I did.
You can of course customize the display of the text by changing the font size, the margins, and the spacing between each line.
You can also change the font and activate or not the automatic hyphenation.
Unfortunately, and as on the last Tea / Pocketbook e-readers, we have no reading statistics (time remaining in the chapter, etc.).
October 2019 change: From the comments, it looks like I made a mistake on this (reading stats). Read the comments to learn more about this topic.
It's disturbing, but since I think this eReader is more dedicated to the sedentary reader where time management is less important than when carrying the eReader.
Let's not go further since reading on this 7.8-inch e-reader is a success with constant comfort thanks to its beautiful screen, its precise resolution, and the lightness of the e-reader (210 grams).
Text-to-speech: speech synthesis to transform ebooks into audiobooks
As we could see during the presentation of the e-reader, you can connect a small cable that adds a 3.5 mm jack port to the e-reader.
This is useful for two things. On the one hand, play MP3 files, on the other hand, use the text-to-speech function.
This text-to-speech function turns an ebook into an audiobook.
For this, you have a new interface that opens allowing you to play with different settings:
male or female voice
reading speed
sound volume
Once launched, we can hear the robotic voice of the software perfectly telling us the story.
And, if we still have the intonation concerns associated with this technology that is present, the main flaw that I had observed in previous models of Pocketbook e-readers has now disappeared.
The sound quality is perfect now. So you can listen to an audiobook without any problem as long as you get used to the mechanical voice of the storyteller.
I don't know if this is the reason why an adapter is provided (improve sound quality), but so it is a success.
Reading PDF files
Reading PDF files is never an area in which e-readers shine.
Still, this InkPad 3 did with honors in the tests. Files open fairly quickly and documents can be read without too much difficulty.
You can then quickly scroll through the pages using the physical buttons, use the two-finger zoom on the touch screen or even move around the document.
The large screen and its beautiful resolution, therefore, come to the aid of the lover of PDF files who will find in this InkPad 3 reader one of the most successful devices in the field.
So while I don't necessarily recommend reading PDF on this eReader, it can be said that it helps out very well in this area – without excelling, however.
Reading Comics
This e-reader, like all e-readers, is not designed for reading comics.
The reason is quite simple: electronic ink is currently suitable for displaying black and white text.
In this case, it is unrealistic to hope to obtain a satisfactory display of a color comic strip on an e-reader.
However, with its large 7.8-inch screen, you can be tempted by reading some manga. These small-format comics and their black & white pages are therefore at ease on this beautiful screen.
For the rest, it will therefore be necessary to turn to a touchscreen tablet to really take advantage of its large-format color comics.
A reality still presents in 2018 as long as successful models of color ereaders will not be available.
Technical specifications of the InkPad 3 e-reader
Finally, and before going to the conclusion, here is the point on the technical characteristics of this e-reader:
7.8-inch touch screen
Lighting with blue light filter "SMARTlight"
8 GB of storage
1 GB of RAM
Dual-core processor (2 x 1 GHz)
Micro-SD expansion port
Resolution of 1,872 x 1,404 pixels (300 DPI pixel density)
Possibility to read MP3 files, speech synthesis with the text-to-speech function
Supported eBook formats: epub DRM, epub, pdf DRM, pdf, fb2, fb2.zip, txt, DjVu, HTM, HTML, doc, docx, RTF, CHM, TCR, PRC
Supported image formats: jpeg, BMP, png, tiff
Weight: 210 grams
Dimensions: 195 x 136.5mm and 8mm thick
Note that we also have 33 novels and extracts loaded by default in the reader.
Conclusion and Final Word
So is the InkPad 3 a good e-reader?
Without a doubt! I even think it's the best e-reader in its range thanks to its beautiful screen, its blue light filter and its very low price.
Where competition is fierce in the 6-inch category, the InkPad 3 e-reader logically finds its place at the top of the best large-format e-readers.
Because, for the moment, there is only war with the Kobo Aura One which remains a possible competitor. But, the InkPad 3 has a head start with its lower price tag, finally fine-tuned text-to-speech functionality, and plenty of options.
Better, for only 30 € more, you can much prefer this InkPad 3 to the Kobo H2O Edition 2 and its screen of "only" 6.9 inches …
Most :
✔️the Price
✔️the big screen
✔️the speech synthesis
the lessers :
❗ slight defect in the lighting
❗ reading statistics (see comments, as it turns out that some information is still available)
Considering that this is more of an e-reader for sedentary users, the flaws are not crippling and I, therefore, give this InkPad 3 the highest possible rating: 5 stars.
In my opinion, you will therefore not find better as a large-format e-reader at the moment.