Vivlio Touch Lux 4 Ereader Review
Before going to the test, it is necessary to give a short introduction.
This reader is marketed in France by Vivlio but is technically designed by the company Pocketbook. It is under this brand that it is sold outside our borders.
The software is however optimized for France since it is the Vivlio library which is integrated into the reader so that we can benefit from a French catalog of ebooks.
Finally, some passages from the old version of the test for this e-reader were included in this test to make you benefit more quickly.
Presentation of the Touch Lux 4 ereader
The ereader is delivered in a beautiful simple and effective packaging: there is the ereader in the box as well as a USB cable which makes it possible to connect the e-reader to a computer or an AC adapter.
As always, the reader is preloaded with a few books, which is a nice touch: it allows you to start reading directly.
We are getting to know the design of the reader well since it has been around for a few years now – probably since version 3 of the Touch Lux.
Once in hand, the reader inspires confidence. The material used seems to be very solid plastic which has a very successful metallic color finish.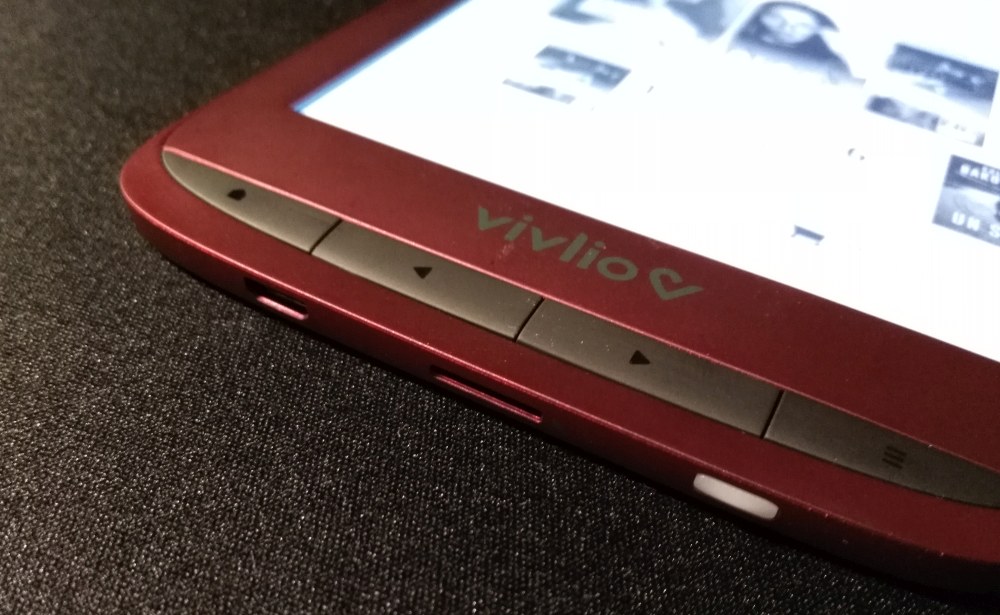 Lovers of large storage capacities will also be happy to learn that the Touch Lux 4 reader has an extension port for a mini-SD (or micro-SD?) Card. It's rare enough today to be highlighted!
Vivlio Touch Lux 4 reader screen
The ereader is equipped with an electronic ink screen designed by E Ink, with a diagonal of 6 inches with a resolution of 758 x 1024 pixels.
We are therefore in current standards for entry-level reading lights with a pixel density of 212 DPI.
The display is therefore very readable and all the characters are displayed with precision whatever the font size is chosen.
On the other hand, as soon as we display drawings, graphics (comics for example), we feel that there is a little something missing from the pixels on the screen to manage to display all of this correctly.
There is also a good contrast. We are well within the standards of 2019-2020 at this level.
The ereader also has lighting which is well designed with many power levels. We can, therefore, read without problem in total darkness with the minimum level and push the brightness a little to obtain a more pronounced contrast in broad daylight.
A touch layer is present which allows you to easily navigate the many menus and options of this ereader.
Of course, it is still possible to use the buttons available on the front panel to turn pages, display a menu, or return to the home page.
Wifi, USB and Vivlio library
Like all e-readers on the market, the Touch Lux 4 offers a Wi-Fi connection.
This allows you to access the library and download books very quickly.
As always, simply access the functionality of the e-reader and consult the books available. If you want to download a book, then just wait 2 minutes to start reading in the reader.
Catalog level, we have something very complete with a lot of titles. You will also find the same books in French as on other booksellers with the exception of certain confidential and self-published books on Kindle or Kobo. But this remains anecdotal.
With the French system implemented by Vivlio, we avoid having to use Adobe for digital rights management and ebooks are immediately accessible for reading without any settings to be made.
We are therefore in optimal user experience in line with what we find at Amazon, Apple, or Google!
The Vivlio Touch Lux 4 reader also has a micro-USB port which has two functions: recharge the reader from the mains with an appropriate adapter (not supplied, but that of your smartphone works) and connect the reader to your computer.
When the Touch Lux 4 is connected to your computer, it can be recharged. But you can also activate the file transfer function.
This option allows you to transfer ebooks that you already have to the e-reader by making a copy/paste or by using the Caliber digital library management software.
Caliber works perfectly and I was able to transfer books in EPUB format and read them on the reader without a problem.
Here is the list of digital formats supported by the reader: epub DRM, epub, pdf DRM, pdf, fb2, fb2.zip, txt, DjVu, HTML, HTML, Doc, Docx, RTF, CHM, TCR, PRC (Mobi).
Vivlio Ereader Interface and Software
The interface has not changed much (in fact almost not at all) and we, therefore, remain on what we knew from previous versions of the reader.
This Touch Lux 4, therefore, offers a very clear home screen with the display of books being read, access to parameters, a button for the library, one for the library, and one for direct access to purchases.
Note that access to the parameters and configuration of the reading light (lighting, etc.) is done by a button marked by two small lines located at the top of the screen.
By selecting this button, you arrive on a new screen that offers some settings as well as a link to the configuration of the reader which allows very complete customization.
At Vivlio we, therefore, have the most customizable reader on the market (excluding more complicated and more geeky Android machines).
Rather judge all the options available:
Wireless

Accounts and synchronization

Personalization: screen refresh, LED indicator, programming of keys (buttons), user profiles

Language management: interface language, virtual touch keyboard, dictionary languages

Date and hour

Drums

Software (for e-reader updates)

Information on the e-reader

Advanced settings: backup, restore, privacy, format, reset the eReader to factory settings, launch the demonstration mode, calibrate the touch screen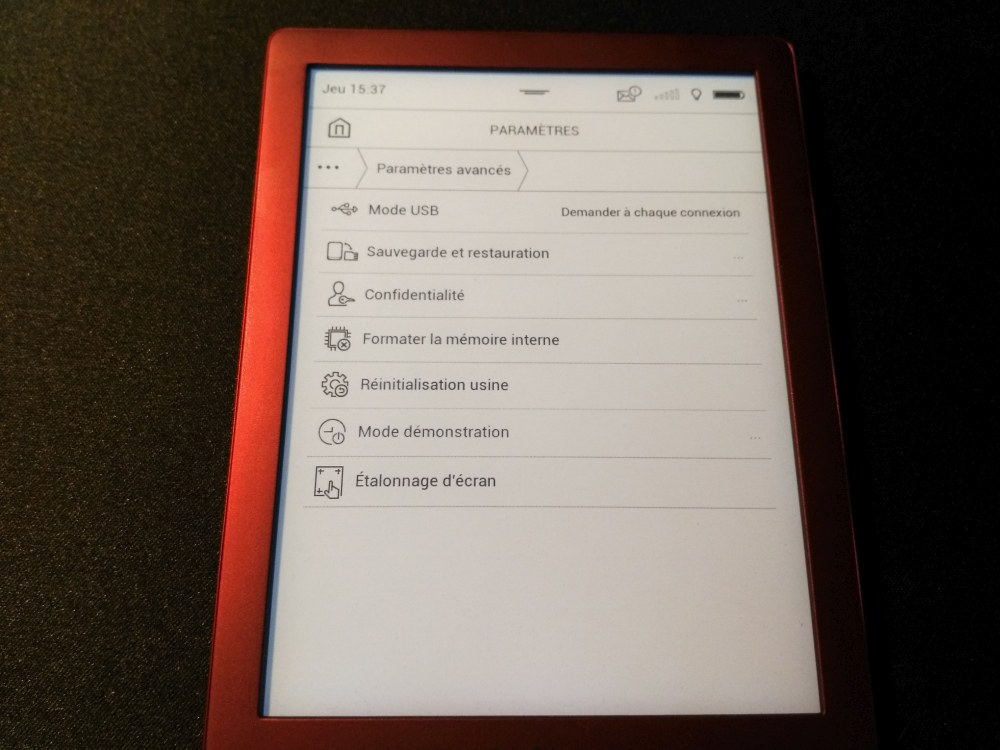 As if that were not enough, Vivlio also offers small utilities and gadgets on its ereader:
News (with RSS feeds)

Internet browser

A dictionary

An image gallery (to view photos and images)

A clock and calendar

It's a bit of a shame because we lost some nice gadgets (like games) that were present in the old version of the reader.
However, it is clear that we have something very complete with this Vivlio Touch Lux 4.
Reading ebooks
The most important thing with an ereader is reading ebooks.
Fortunately, with this Touch Lux 4, it's perfect and everything works well.
The screen is precise enough to be able to read without problems and there are many options for personalizing the text.
As always, the lighting brings a real plus to the ereaders since it allows you to read at night without disturbing your neighbor.
The reading software works well, but I found that the page change seems a little slower than the competition.
In general, the ereader is also very slightly slower than the competition. This is really no problem, but it can be seen fairly quickly when you are used to testing e-readers and reading ebooks.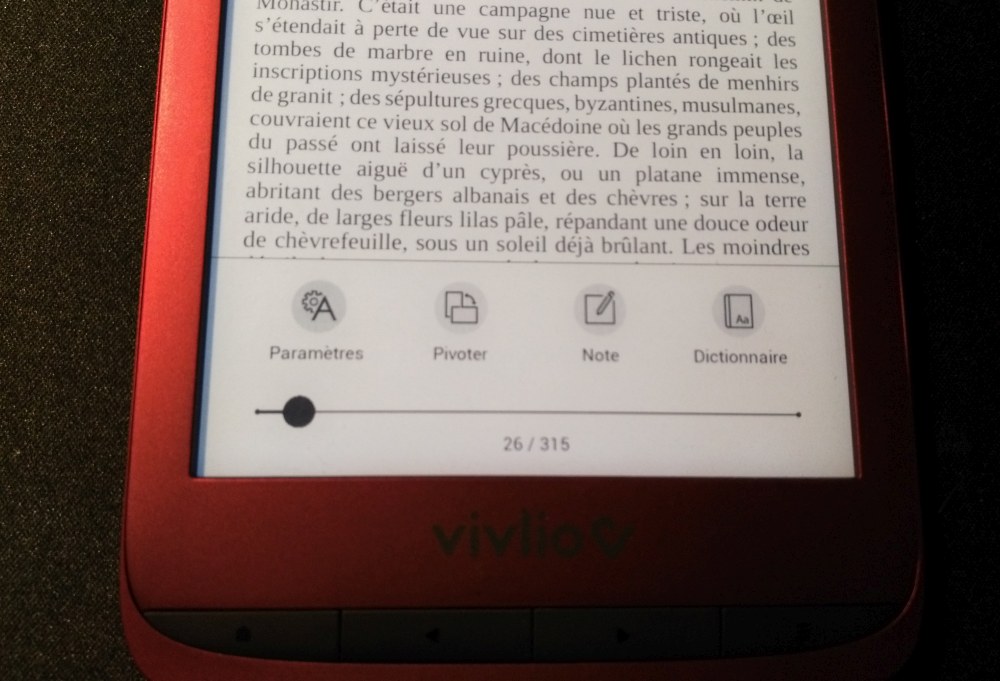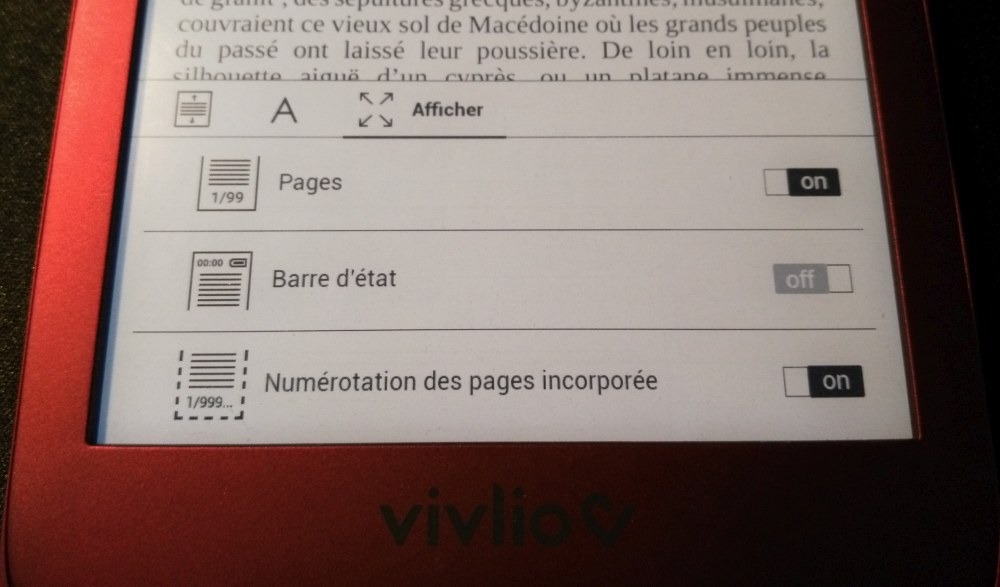 We can also deplore the lack of display statistics that can be displayed during reading. On other e-reader models, it is possible to display the time (in minutes) that remains to be read in a chapter.
I find it quite practical – even if it is a bit of a gadget – and it is not present on this reader which displays the current page and the total number of pages in the ebook.
On the other hand, you can display the reading page in landscape mode which is always nice if you are looking to read long lines or if you need to significantly increase the size of the characters in the book.
Overall, reading is therefore very pleasant even if we note some small faults (general slowness and lack of statistics on the reading in progress).
PDF reading
This reader is undoubtedly the one that does best with PDF reading without its category.
Admittedly, it's still far from perfect, but it does help if you have to read a document on your Touch Lux 4.
Besides, as soon as you zoom in a bit, the reader shows its technical weakness to properly manage this kind of document.
No worries at this level: the problem is the same for all brands of ereaders. These machines are just not made for this.
Comic Book Reading
Given its screen and PDF reading capabilities, reading comics seems to me to be largely discouraged on this ereader.
You may be tempted by some manga.
But, I think we should let the reader do what it does best: display text.
Technical characteristics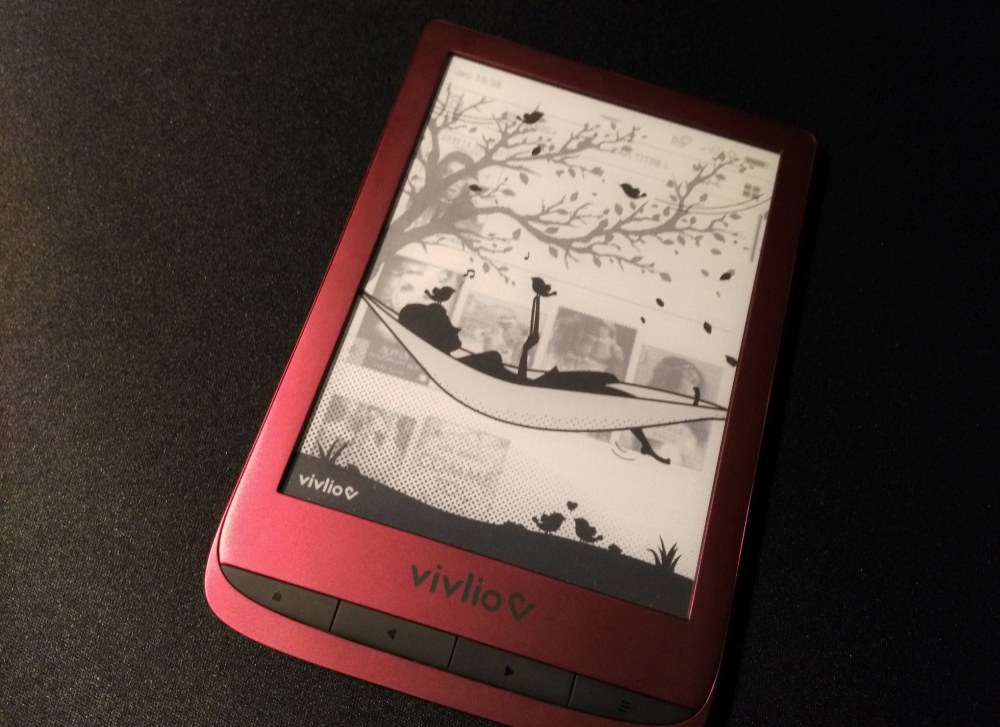 Here are the technical characteristics of the reader:
Screen: E Ink Carta – 6 '' (15.24 cm) – 758 × 1024, 212 dpi

Touch screen: Capacitive (multisensor)

Facade lighting: Yes

Processor: 1 GHz

RAM: 512 MB

Internal storage for ebooks: 8 GB

Battery: Li-Ion, 1500 mAh (about 1 month of autonomy)

Wi-Fi: Wi-Fi (802.11 b / g / n)

USB port: Micro-USB

Port for microSD memory card up to 32 GB

Supported book formats (without conversion): epub DRM, epub, pdf DRM, pdf, fb2, fb2.zip, txt, DjVu, HTML, HTML, Doc, Docx, RTF, CHM, TCR, PRC (Mobi)

Image formats: jpg, BMP, png, tiff

Free dictionary: Le petit Littré

Dimensions: 161.3 × 108 × 8 mm

Weight: 155g
Conclusion and final opinion
Clearly, this Vivlio Touch Lux 4 does its job well and offers a completely satisfactory reading of ebooks.
Her problem is that she seems slightly behind technically – at least for the price of € 109.99 excluding special offer or promotion.
The price/quality ratio is, therefore, less attractive than a few months ago due to the new releases of Kindle, Kobo Libra H2O, or Bookeen Diva HD e-readers which offer much more for a slightly higher price.
The basic Kindle, for example, is available for $ 89.99 and is doing well as well.
This Vivlio Touch Lux 4 is, therefore, a little expensive and it should be bought while taking advantage of a promotional operation to get value for money.
On this subject, do not forget to consult the ereader buying guide to keep up to date with the latest promotions.
Despite its problems, it is still a good ereader that offers an interesting design with buttons that allow you to turn pages without having to use the touch screen.
See Vivlio's Touch Lux 4 at Cultura.
See Vivlio's Touch Lux 4 at Boulanger.
 See Vivlio's Touch Lux 4 at CDiscount.
Most :
✔️ great customization
✔️ a good price provided you take advantage of a Touch Lux 4 + cover pack at € 109.99
The lessers :
❗ a slow reader
❗ still no reading statistics
Final Notice (without promotion): ⭐⭐⭐
Reviews with the Reading lamp + Cover pack for € 109.99: ⭐⭐⭐⭐